Honoring
Dr. Judith M. Burton | Barbara and Aaron Levine | Sean Kelly
Award presented by: Samuel Hoi,
President, Maryland Institute College of Art (MICA)
CITYarts brick award created by: Artists Aimee Ehrman & Tom Lollar
Dr. Judith M. Burton holds the Macy Chair of Education at Columbia University Teachers College (TC); she is also a Professor of Art & Art Education. Before coming to TC she was Chair of Art Education at Boston University and taught at the Massachusetts College of Art. Burton received her Ed. D. from Harvard University in 1980. Her research focuses on the artistic-aesthetic development of children, adolescents and young adults and the implications this has for teaching and learning and the culture in general. In 1995 she co-founded the Center for Research in Arts Education at Teachers College, and in 1996 founded the Heritage School – a comprehensive high school featuring the arts – located in Harlem, NYC. Her book Conversations in Art: The Dialectics of Teaching and Learning co-edited with Dr. Mary Hafeli was published in 2012. She is author of numerous articles and chapters and currently has two books in process of publication: She received the Manuel Barkan Award for excellence in research writing, the Lowenfeld Award for lifetime achievement in art education from National Art Education Association (NAEA) and the Ziegfeld Award for services to international art education from the International Society for Education Through Art (INSEA). Dr, Burton is a Fellow of the Royal Society for the Arts in Great Britain, a Distinguished Fellow of the NAEA, and serves as Distinguished Visiting Professor at the Central Academy of Fine Arts Beijing, and the South China Normal University, Guangzhou. She holds an honorary doctorate from the Beaconhouse University, Lahore, Pakistan. She is a trustee of the Maryland Institute College of Art in Baltimore, MD, USA and a former trustee of the Haystack Mountain School of Crafts in Maine, USA. She is the NAEA Eisner Lifetime Achievement honoree for 2015, in recognition of her services to the profession both nationally and globally. Her chapter Crossings and Displacements: The Artist and the Teacher, Reweaving the Future is included in the AERA Handbook on Research and Teaching 2016.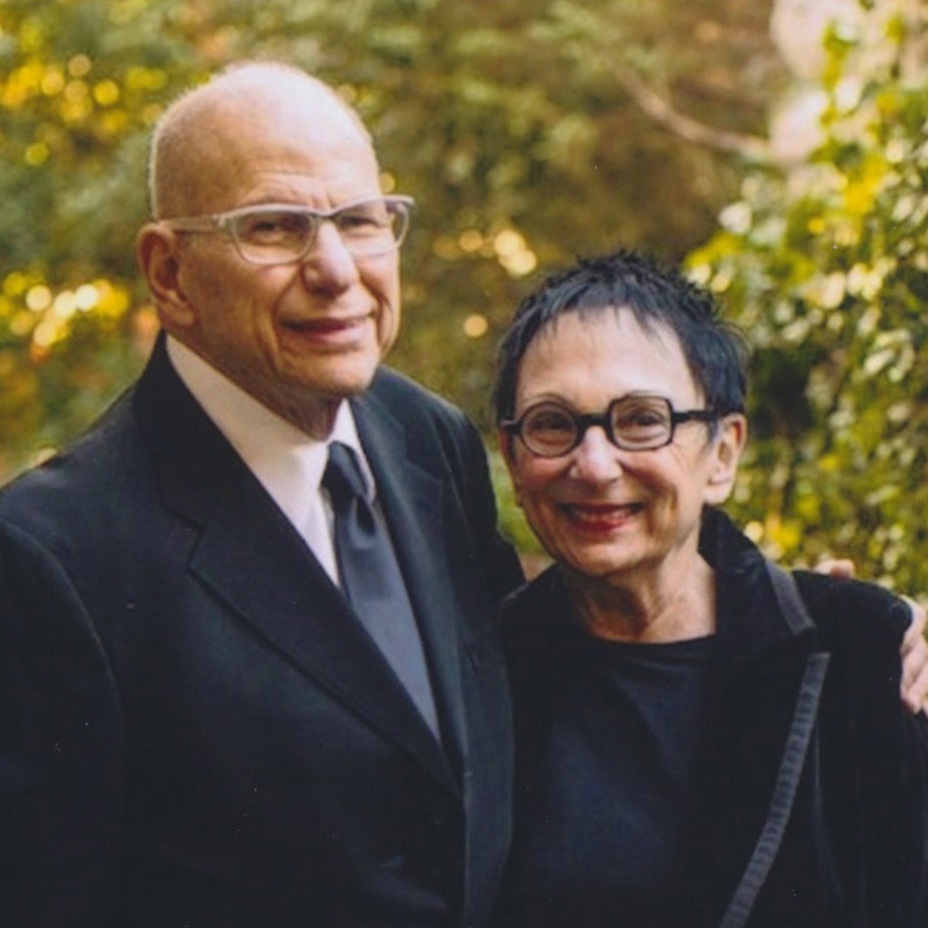 Award presented by: Blake Gopnik, art critic
CITYarts brick award created by: Sadie Aeder
As significant art collectors for more than 30 years, Barbara and Aaron Levine love to tell the story of how their teenage granddaughter Sadie had a discussion with a boy who believed there was no art after painting, and how she lectured and enlightened him on Marcel Duchamp's readymades. The Levine family's engaged love and appreciation regarding imagination and artistic expression extends into education with Sadie's mother Jennifer Levine and her husband Jeff Aeder, who together founded the Wolcott School, a college-prep high school in Chicago for children with learning differences, where creativity is a centerpiece. The Levine's commitment to learning and the arts is further reflected in Barbara and Aaron's recent and expansive donation of major historical works by Duchamp to the Hirshhorn Museum. The two continue to donate art to museums and books to museum libraries.
Award presented by: Lauren Kelly and Thomas Kelly
CITYarts brick award created by: Sam Moyer
Sean Kelly began his career in England as an artist, subsequently serving as a museum curator and director before relocating to New York where he established his eponymous gallery in 1991. Over the course of more than twenty-five years, the Gallery has garnered international attention for its collaborations with renowned cultural institutions, coordinating hundreds of exhibitions on behalf of its artists at an array of prestigious museums. It is notable that the Gallery is multigenerational and very much a family business, Sean's children Lauren and Thomas Kelly are both Partners. The Gallery has become a symbol for high quality, thought provoking contemporary art and conversation, most recently with the launch of Collect Wisely in May 2018. Collect Wisely is an overarching advertising, podcast, social media, and event driven campaign aimed at refocusing the discourse around collecting to return to the heart of the matter: discussing art, artists, and a passion for collecting and connoisseurship. Sean is equally committed to education, human rights and social justice issues, making the gallery available free of charge to educational advocacy groups and school tours throughout the year. Recently Sean and his wife Mary Kelly donated their extensive James Joyce collection to The Morgan Library & Museum. Sean currently serves on the board of PEN America where he is the Co-Chair of the annual PEN Literary Gala.
Program
Master of Ceremony
Roma Torre, NY1 News
6PM
Cocktail Reception
Silent Auction: Art & Luxury Goods
7PM
Award Presentation
CITYarts Film
Live Auction

8 to 9PM
Dinner ~ Caterer: Between the Bread
Silent Auction continues
Raffle Winners Announced
LEADERSHIP CIRCLE AND ART AUCTION
Amir Dosal ~ CHAIRPERSON
Leadership Circle
Lead Sponsor
Dr. Miriam & Sheldon G. Adelson
- Adelson Family Foundation
Sponsor
Allianz of North America
- Peter Lefkin & Christopher Worthley
Benefactor
Michael Tuch Foundation
Pollock-Krasner Foundation
Ambassador
Sindy Aprigliano
Daniel Beauchemin
- Chelsea Frames
Kira Chappelle
Oren & Claire Cohen
Jim & Helene Lawrence
- John S. and Florence G. Lawrence Foundation
Maryland Institute College of Art in honor of Judith Burton
May and Samuel Rudin Family Foundation, Inc.
Fran Schulman
David Sherman
- Cohanzick Management LLC
Jed Walentas
- Walentas Foundation, Ltd.
Cheryl Wolf
Patron
Mark Allison and Stephanie Holmquist
Brad Brodar, Jamie Camhi, Joshua Greenberg, Will Sanchez
- Bank of America
Irwin & Roberta Chafetz
Robert Friedman
- Sheppard Mullin
Agnes Gund
TD Bank
- Anne Louie
Stephen Maharam
Richard & Ronay Menschell in honor of Sean Kelly
- Charina Foundation, Inc.
The Morrison & Foerster Foundation
Laurie Tisch
- Laurie M. Tisch Illumination Fund
Friend
Paula Cooper Gallery
Amir and Tas Dossal
Eleanor Flomenhaft
Charlie Hollander
- Gemstone King
Dede McMahon
Dianna & Roberto Muller
Orentreich Family Foundation in honor of Sean Kelly
Vera Sung
The Topor Family Foundation

Donor
Lea Cohen
Ron Cohen
Ken Fuirst
Dr. Monica Halem
Susan Harris
Robert Pittinger
Peter Schaffer
Joyce Pomeroy Schwartz

Admission for Two
Dr. Fabien Bitan
Blake Gopnik and Lucy Hogg
Galerie Lelong
Debra J. Levin
Joy Moser & Mahbobe Ghods in honor of Judith Burton
General Admission
Iris Bildstein in honor of Judith Burton
Mary C Hafeli in honor of Judith Burton
George Huang
Olga Hubard in honor of Judith Burton
Paul Limperopulos in honor of Judith Burton
Patty Mah
Landon Metz in honor of Sean Kelly
Gerard Mosse
Alexander W. Tsui
Junior Supporter
Virginia Hoffman
Support an Artist
Jane Richards in honor of Sean Kelly
Marti Fischer
Thomas Lollar in honor of Judith Burton
Give Something
Alberta Arthurs in honor of Judith Burton
Henry Buhl
Anna Carbonell
Alexandra Carter
Joseph M Cohen in honor of Sean Kelly
Dr. Katie M. Embree
Carol & Arthur Goldberg
- The Foundation, To-Life, Inc.
Amy Gutenplan
Mr. Martin Steven Fridson & Ms. Elaine R. Sisman
- The Fridson Family Charitable Fund
Donna Harkavy and Jonathan Price
Gabriel Kahana
David Kaliner
Jeremiah Kissel
Charlotta Kotik
Galerie Lelong
Edward P. Mally
Courtney McGraw
Dianne G. Mendez
Jeanne E Morascini
Charles P Nafman & Sandi Fellman
Nicolas S. Rohatyn & Jeanne Greenberg Rohatyn
Richard M. Rubenstein
Lynne Sable in honor of Sean Kelly
Thomas Sanders
- The Andrew W. Mellon Foundation
Ann & Mel Schaffer in honor of Sean Kelly
Bennett L. Spiegel & Lise F. Spiegel in honor of Oren Cohen
Leonard Vrondissis
Art Auction Artists and Contributors
Arman ~ Zigi Ben-Haim ~ Christo ~ Lesley Dill ~ Michele Oka Doner ~ Marylyn Dintenfass ~ Edward Eyth ~ Shiri Paamony Eshel ~ Ronald Feldman Gallery ~ Jackie Ferrara ~ Emily Rutgers Fuller ~ Cris Gianakos ~ Richard Haas ~ Jenny Holzer ~ Kristin Heming (Pace Prints) ~ Robert Indiana ~ Nam June Paik ~ Karpop ~ Joyce Kozloff ~ Stephen Lack ~ Daniel Libeskind ~ Beth Lipman ~ Mona Mark ~ Louis Mendez ~ John Moore ~ Gerard Mosse ~ Malcolm Morley ~ Vik Muniz ~ Wendy Nadler ~ Shirin Neshat ~ Syed-Haider Raza ~ Cindy Sherman ~ Peter Sis ~ Alec Soth ~ Michelle Stuart ~ Anne Vandycke ~ William Wegman ~ Nola Zirin
Our Team
CITYarts BOARD OF DIRECTORS
Kira Chapelle & Cheryl Wolf
CO-CHAIRS
Fran Schulman
TREASURER
Sindy Aprigliano
SECRETARY
Vera Sung
Oren Cohen
Tsipi Ben-Haim
FOUNDER, EXECUTIVE & CREATIVE DIRECTOR
CITYarts STAFF
Tsipi Ben-Haim
FOUNDER, EXECUTIVE & CREATIVE DIRECTOR
Keith Tilford
ASSISTANT TO THE DIRECTOR
Linnea Borgo
Natalia Olivares
PROJECT COORDINATORS
Jessica Jorge
PIECES FOR PEACE COORDINATOR
Robin Selditch
BOOKKEEPER
Hannah Alderfer, HHA design
GRAPHIC DESIGN
CITYarts BOARD OF ADVISORS
Susan Brundage ~ Amir Dossal ~ Deborah Dugan ~ Marti Fischer ~ Stephane Holmquist ~ Charlotta Kotik ~ Nina & Daniel Libeskind ~ Paul Limperopulos ~ Thomas Lollar ~ Jeanne Greenberg Rohatyn ~ Irwin Schlachter ~ Lois Vaisman
JUNIOR BOARD
Thomas Monahan & Julia Ritz-Toffoli (CO-CHAIRS) ~ Kate Emery ~ Alejandro Friedman ~ Robyn Spieler
CITYarts INTERNS
Lucy Beckman ~ Justice Candelario ~ Kadeem Chandrashekhar ~ Joella Chase ~ Jeremy Fernandez ~ Kalah Hendricks ~ Kassandra Jean-Pierre ~ Jeylin Lopez ~ Venorra Moringlan ~ Genevieve O'Brien ~ Cassidy Paul ~ Eliza Ross ~ Iris Wechsler
CITYarts GALA COMMITTEE
Ashley Chavis ~ Jessica Davidson ~ Veronique Gautier ~ Joy Glidden ~ Louky Keijsers Koning ~ Vered Lieb ~ Paul Limperopulos ~ Thomas Lollar ~ Brooke Lynn McGowan ~ Dede McMahon ~ Wendy Nadler ~ Jane Summerhays ~ Azin Valy ~ Pauline Willis
~ Seth Wittman
Our Mission
CITYarts engages young people and professional artists in the creation of public art. Through this creative process, CITYarts empowers youth and connects them locally and around the world to become active participants in transforming communities. CITYarts has created over 320 projects that have transformed communities and impacted over 200,000 kids, collaborated with more than 500 artists, partnered with over 1,500 sponsors, and engaged over 500,000 volunteers in the process. CITYarts' projects frequently foster community revitalization by galvanizing businesses, schools, and community organizations into developing youth programs and constructing playgrounds and gardens.

CITYarts is a 501(c)3 non-profit, public art organization supported by generous contributions from individuals, foundations, corporations, and government agencies. Please be one of them!